(Last Updated On: 05/05/2023)

What is Bidirectional Charging in EVs Projects?
As environmental consciousness and electric vehicle (EV) ownership increases, bidirectional charging is becoming a technology of great interest in the world of lithium batteries. Bidirectional charging allows for energy to be both stored and discharged when needed and finds applications such as EVs, home installations, and more. This blog post will provide an overview of what bidirectional charging involves, different types of bidirectional charging technologies available, and the potential benefits that can be derived from this technology with respect to EV usage.
Overview
1. What Is EVs Bidirectional Charging?
2. Types of Bidirectional Charging
1. What Is EVs Bidirectional Charging?
Using electric vehicles as distributed power sources to power different loads. This can also be said to be a way of distributed energy storage.
2. Types of Bidirectional Charging
Based on where electric energy from electric vehicles is used, the types including V2G (Vehicle to Grid), V2H (Vehicle to Home), V2B (Vehicle to building/business), V2V (Vehicle to Vehicle), V2L (Vehicle to Load), V2F (Vehicle to Factory), V2B (Vehicle to building), etc. This is actually the result of different usage scenarios and meeting different user needs.
3. V2G
3.1: In V2G mode, electric vehicles are like mobile power banks, which can adjust the charging time and power according to the grid demand. When the vehicle stops driving, it is discharged through the V2G terminal according to the grid demand. With the growth of the scale of electric vehicles and the improvement of power battery technology, electric vehicles, as a distributed energy storage device, can not only meet the user's driving needs, but also discharge the power grid in reverse.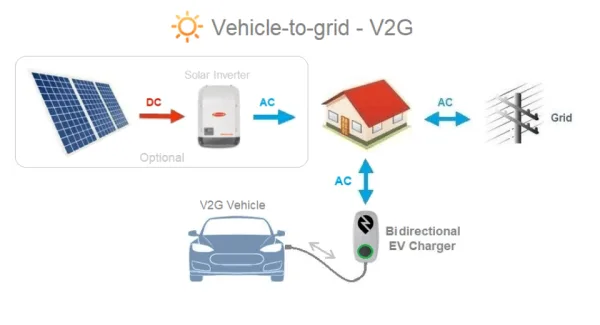 3.2 What you can benefit from V2G?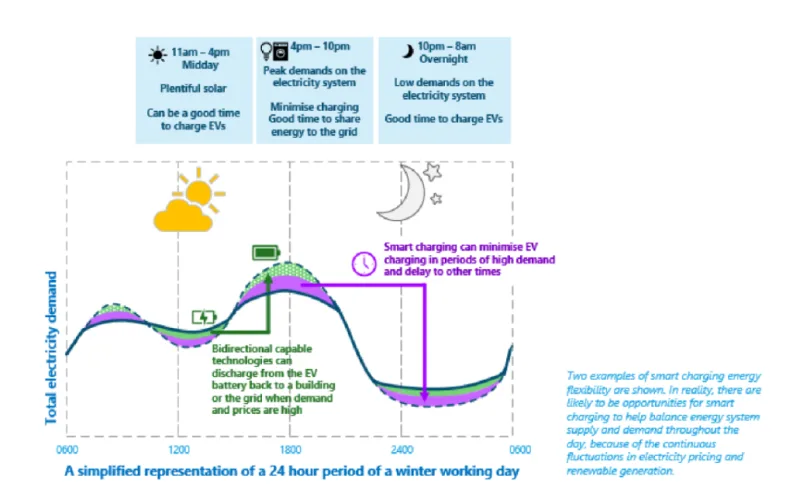 The above figure is a survey conducted in the UK. According to the V chart of electricity demand trend, it can be seen that electricity demand is higher between 8am and 10pm, with the maximum demand usually occurring between 4pm and 10pm in winter. We can use V2G to discharge the power grid during peak electricity consumption periods and then charge electric vehicles during low electricity consumption periods. This can generally minimize the investment costs of power generation capacity and the power grid (cables and other electrical equipment), as well as reduce carbon dioxide emissions.
V2G can also be linked with solar and wind energy storage systems, and the electricity generated by solar and wind energy can be output in reverse to the grid through intelligent converters.
4. V2H
4.1: V2H is similar to V2G in that it connects an electric vehicle to the home power grid, and the battery of the electric vehicle can be used as a backup power source for emergency use or in the event of a power outage. When an electric vehicle is not in use, it can be connected to the home power grid to supply the energy stored in the battery to the home appliances. Through an intelligent control system, the output voltage and current of electric vehicle batteries can be controlled to meet the needs of household electricity.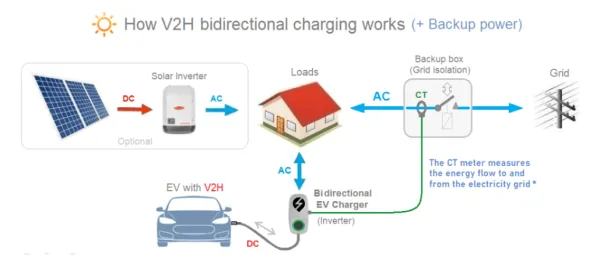 In order for V2H to operate normally, a compatible bidirectional charger and additional equipment are required, including an energy meter (CT meter) that must be installed at the main grid connection point. CT instruments monitor the energy flow in and out of the power grid. When the system detects the need for electrical energy in the home, it will send a signal to the electric vehicle bidirectional charger to release energy, thereby providing power to the home. Similarly, when the system detects the energy output from the rooftop solar array, it will switch to charging the electric vehicle. If the backup power supply (vehicle) is to be activated in case of power outage or emergency, the V2H system must be able to detect power grid interruption and isolate it from the electrical network using automatic contactors (switches).
4.2: V2H technology still has many advantages in future energy development. Firstly, it can convert the batteries of electric vehicles into backup power sources for households, improve the reliability of household power supply, and reduce the risk of power outages in households. Secondly, V2H technology can improve the utilization rate of electric vehicles, making them a more intelligent and environmentally friendly means of transportation, while also reducing the cost of household electricity. Finally, V2H technology can provide households with more green energy choices and promote energy transformation.
Currently, there are relatively few vehicles that truly implement V2H. For example, Nissan Leaf and Mitsubishi Outlander PHEVs both use the old CHAdeMO interface; The new Ford F-150 Lightning EV can operate in V2H mode using a CCS connector through an in car bidirectional charger. However, it is only used with the Ford Charging Station Professional Edition and Ford Home Integrated System.
Nissan Leaf ZE1
Outlander PHEV
Ford F-150 Lightning

5. V2V/V2L
The principles of V2V and V2L are similar to those of V2H, except for differences in the objects and usage scenarios being powered. V2V is used for vehicle to vehicle discharge, and can be used for scenarios such as vehicle power replenishment and emergency rescue. V2L, on the other hand, applies to outdoor lighting, picnics, and other scenarios.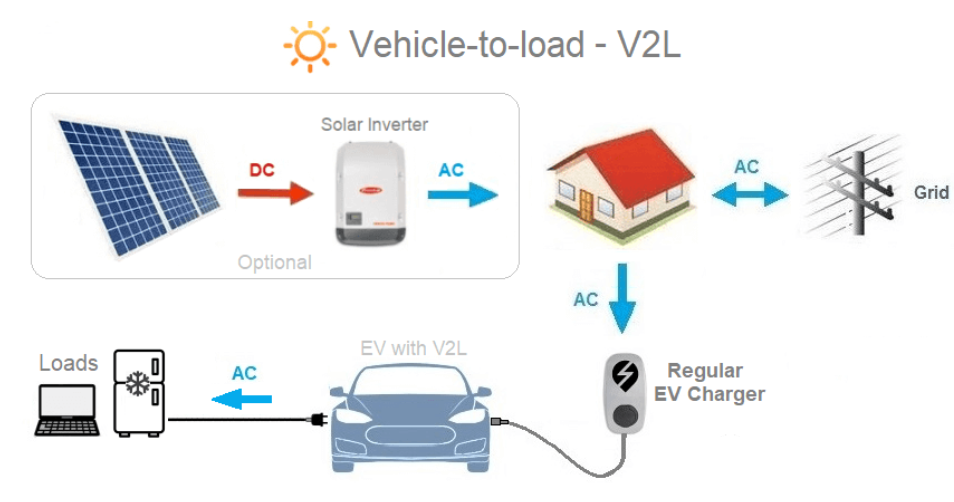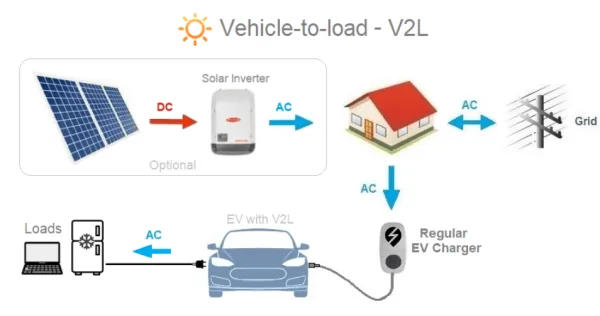 EVs bidirectional charging technology is here to stay, as it offers benefits far beyond what was initially anticipated. As the world moves more and more towards renewable energy sources, it makes sense to utilize all of the available resources efficiently. By utilizing EVs bidirectional charging, you can both power your home with excess energy from your EV's battery and save money in the process!
Contact Bonnen Battery↓ now and learn more about EVs lithium battery Technologies!
© [Bonnen Battery] and [www.bonnenbatteries.com]. Unauthorized use and/or duplication of this material without express and written permission from this site's author and/or owner is strictly prohibited. Excerpts and links may be used, provided that full and clear credit is given to [Bonnen Battery] and [www.bonnenbatteries.com] with appropriate and specific direction to the original content.