(Last Updated On: 25/11/2021)
24V 20AH LiFePO4 Lithium Ion Battery
Drop-in replacement for lead acid battery

More than 10 years life cycles

Wide operating temperature range

Safety Protection: Overcharge protection, Over discharge protection, Short-circuit protection

Low self-discharge, can long time storage

Green Energy without contaminants
| | |
| --- | --- |
| Nominal Voltage | 25.6V |
| Nominal Capacity | 20Ah |
| Energy | 512wh |
| Resistance | ≤ 50 mΩ |
| Efficiency |  99% |
| Self Discharge | <3% per Month |
| Maximum Modules In Series | 1 |
| Max Continuous Discharge Current | 30A |
| Peak Discharge Current | 60A(7.5S±2.5S) |
| BMS Discharge Current Cut Off | 170A±20A(20±5ms) |
| Recommend Low Voltage Disconnect | 22V |
| BMS Discharge Voltage Cut Off | 16V (2±0.08vpc)(140±60ms) |
| Reconnect Voltage | 20V (2.5±0.1vpc) |
| Short Circuit Protection | 200-600μs |
| Recommend Charge Current | 10A |
| Maximum Charge Current | 30A |
| Recommend Charge Voltage | 28.4V-29.2V |
| BMS Charge Voltage Cut Off | 31.2V (3.9±0.025vpc)(1±0.3s) |
| Reconnect Voltage | 30.4V(3.8±0.05vpc) |
| Balancing Voltage | 28.8V(3.6±0.025vpc) |
| Discharge Temp. Range | -20℃ to 60℃ |
| Charge Temp. Range | 0℃ to 45℃ |
| Storage Temp. Range | -5℃ to 35℃ |
| BMS High Temp Temp Cut Off | 70℃ |
| Reconnect Temp | 50℃ |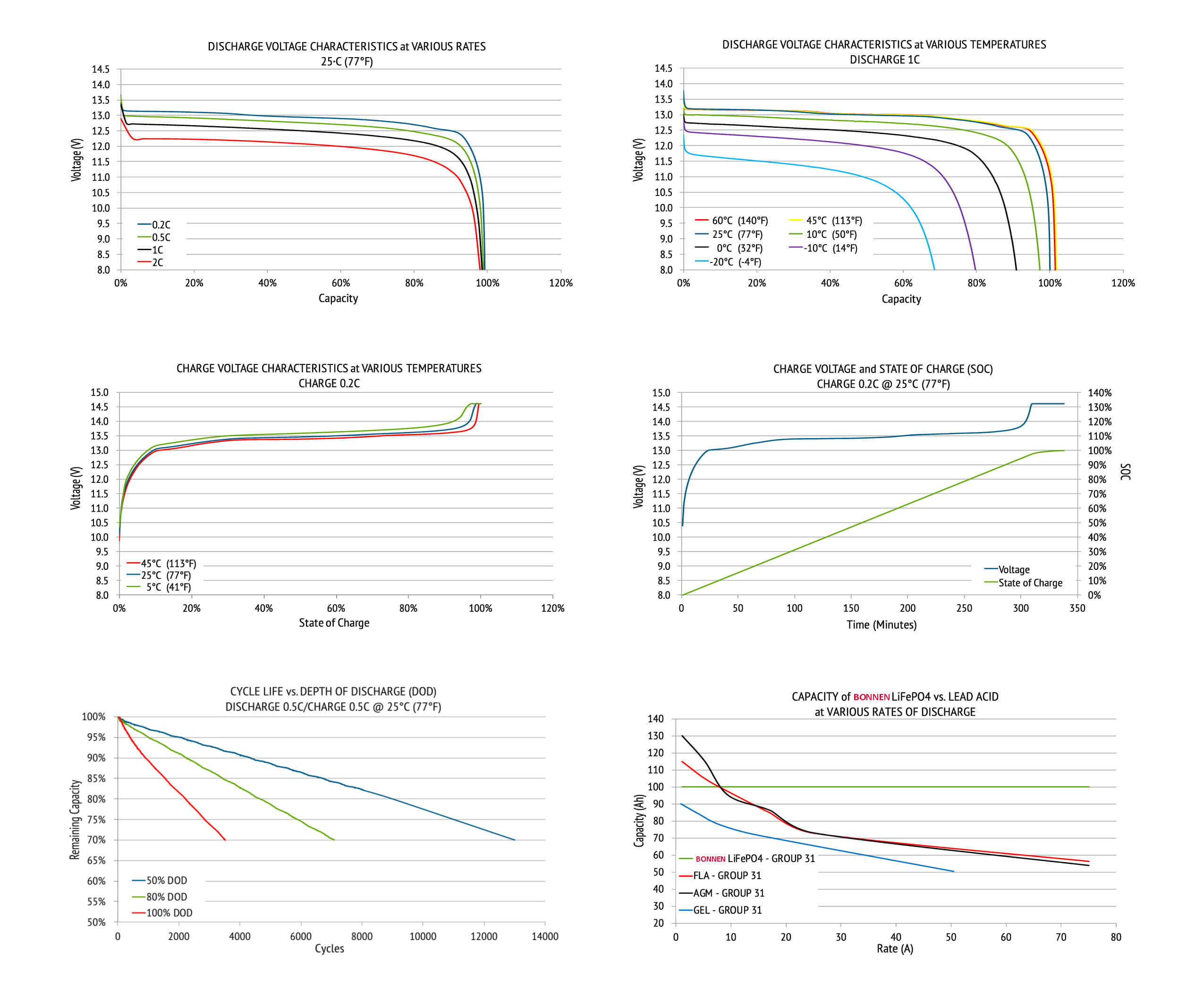 | | | | |
| --- | --- | --- | --- |
| Length | Width | Height | Weight |
| 216mm | 113m | 150mm | 5.4Kg |
|  8.5" |  4.4" |  5.9" | 12Lbs |
Warnings
Never connect the positive and the negative of the battery with metal
Never ship or store the battery with metal
Never cut or puncture the battery
Do not expose the battery to water
Do not expose the battery to fire & high temperature
Storage &Non Use
Storage in a dry place with temperature of not exceeding 30°C
For long term storage keep battery charged 30%-50% of capacity
Do not storage battery with metal
Use terminal post covers to prevent any short circuit circumstance
Additional Product Information
The Lithium battery makes every attempt to verify that its products are used and designed for your application. For additional questions or concerns, please contact with Bonnen or your distributor.
1): Are you a manufacturer or a trader?
Re: We are an expert in lithium battery manufacturer. We have successfully provided all kinds of comprehensive lithium battery solutions to different counties for about 10 years.
2): What brand and chemistry of batteries do you use?
Re: We will use LifePo4 or NMC lithium battery cells for your solution. In order to guarantee the quality of performance. We normally use the cell or module from Tier 1 battery cell manufacturer in the world. For example, we will use the lithium battery cells from GOTION or EVE. GOTION is the lithium battery cell supplier of Volkswagen. EVE is the lithium battery cell supplier of Daimler.
3): Is there a discount available if I order large quantities?
Re: Yes, with more bulk size orders, prices will be cheaper.
4): Do you offer battery chargers?
Re: Yes, we do. Please mention a charger when sending an inquiry. Please be advised that our charger cost is not included in the price of the battery.
5): What is your company's intelligence like?
Re: Our company has ISO9001 certification. Most of our products are UN38.3, IEC62133, and CB certified.
6): When will my order be shipped?
Re: Normally 30 days after payment is received, but it can be negotiated based on order quantity and production schedule.
7): What is the quality guarantee period?
Re: 3 years!
8): Are the Lithium battery solutions waterproof?
Re: Bonnen Battery offers custom IP54, IP65 and IP67 levels. The IP67 level can at least ensure that the battery pack is immersed in water at a depth of one meter. This will not cause problems for a certain period of time.